Design - Take it up a Notch!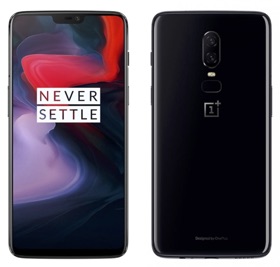 OnePlus have been long criticised for imitating design especially from Apple. Funny thing though about Imitation, if you actually combine it your own creativity and refinement, than the imitation tends be more valuable than innovation!! Well is that not what happening in the Mobile Smartphone world today!
This year again while some might focus on the notch OnePlus focused on upping their design game by several 'notches' with an all glass design; sounds familiar? But what they have managed to do, give it a metal like finish especially on the matte black version which has a sandblast glass finish which imitates a metal like finish. Though they might not win any design awards but they are by far the best looking phones ever by OnePlus.
Dual camera Setup and a rear Mounted fingerprint sensor which is now oval in shape, is now vertically placed towards the centre on the rear. While a slightly larger and gorgeous 6.28-inch Optic AMOLED FHD Display in 19:9 aspect ratio, with almost no bezels and with a unobtrusive notch! providing more screen real estate while the overall physical dimension of the phone is tad smaller compared to its predecessor. With volume rockers on the left and the ever so useful alert slider now has been placed in the right side above the power button, and is as convenient as it always has been. The 3.5mm audio jack is still here for good along with the USB Type-C port and a single bottom firing speaker. Love the fact that 3.5mm headphone jack is here and it is as sensible as it gets - look, for the ones who have already invested in a pair of fantastic earphones/headphones with Audio Jack, dongles complicates it all. And you can still connect your Bluetooth headsets anyways if you wish so, it's a win win situation.
What sets the OnePlus Apart - The Master of Zen Minimalism!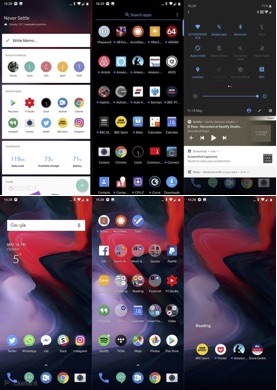 Software has always been strong suite for OnePlus and this is where it really shines! Oxygen OS is the perhaps the best adaptation of Android and here it's based on Oreo 8.1 It's also the first to implement a fully functional and easy to use gesture based UI which apparently is still under beta and is scheduled to be released in next version of Android 'P' or Android 9. Features like the dark mode which OnePlus has been offering for couple of years now - is AMOLED display friendly and plays a significant role in battery efficiency. Other small intricate details, such as inhouse music player, option to switch between navigation bar and gestures, option to hide the notch, compatibility with various icon packs customisation options without overwhelming the users, a very practical and relevant approach.
Also its refreshing that they do not boastful of AI integration. You see it's a given that all the latest CPUs have inbuilt machine learning and AI capabilities. So they are keeping it simple and let the software and performance do the talking. Simply put and to state the obvious the user interface, experience and performance is simply phenomenal.
Cameras- Picture Perfect!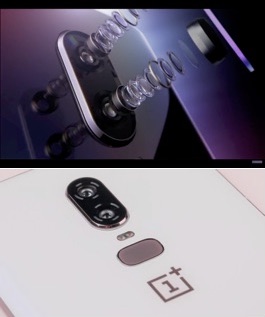 Camera performance is another area where OnePlus 6 outshine all its predecessors and can keep up with most of the flagships, so much so that on most occasion it's difficult to say them apart! The vertically placed Dual camera comprises of a; 16 MP (f/1.7 Sony IMX 519 senor) with gyro-EIS, OIS + a secondary 20 MP (f/1.7, Sony IMX 376K sensor) with Phase Detection Autofocus and Dual-LED flash. Under bright and ideal lighting conditions the pictures taken are fantastic with great colour saturation and details. However the low light photography is where you would observe significant improvement. Image captured are sharper brighter with more details and less blur and noise.
Videos captured are also clear stable, thanks to the presence of both EIS & OIS. 4K videos can captured @60fps. You can capture a Super Slow motion video for a full minute or 60 secs @480 fps @ 720P or 240fps and 1080p which is refreshing whilst most of the Falships limiting it to only a few secs.
The front camera 16 MP (f/2.0 Sony IMX 371 sensor) with gyro-EIS and Auto HDR along with built in features like Smile Capture and Face Beauty capable of snapping some of the best selfies you can come to expect from a smartphone.
Performance - "The Speed you Need' and a must have!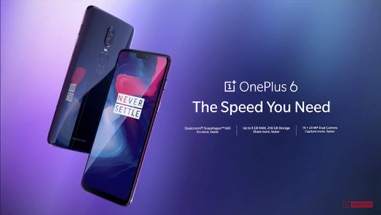 Super fast dash charging, one of the fastest fingerprint and facial unlock, one amongst the few to last a full day of heavy use and performance with sheer silky smoothness is what we have come to experience with OnePlus devices. And the 6 is no exception either. It houses the latest powerhouse from Qualcomm the Snapdragon 845, a 3300mAh battery pack with stellar endurance and 6GB/64GB & 8GB/128GB/256GB of RAM and Storage respectively. As i have explained above when you combine such power with a highly efficient software, the result is ultimate performance.
Wireless charging is missing and as the company explains they are not interested in providing a feature just for the sake of it (makes sense as we have come to witness that apple wireless charging is not nearly effective only Samsung has got it right!) But once you use the Dash Charging you won't feel the need for this either. Also, the phone is water resistant or rather Weather Resistant (especially few drops of rain or maybe a mild splash!) as OnePlus puts it, ok to be used in rain but not recommend to be taken for a swim though.
Keeping up the tradition - Cases & Limited edition - Avengers infinity War Edition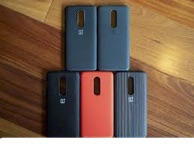 Perhaps only amongst the few Android manufacturer who cares to provide the high quality cases fit like hand in glove and look awesome - not to mention the unique and complete OnePlus experience.
Since they almost release only one design and one flagship each year, they compensate by releasing a fan favorite editions of the most popular and iconic Characters who inspire and instill the hero within all of us. And Who better than the Avengers themselves, hence the limited edition Avengers Infinity War Edition. Though the availability is still a fortnight away and Deadpool is here and has already surpassed the Avengers (at least in cinemas). But, The Iron man case looks neat and far more cooler than Kylo Ren's mask here.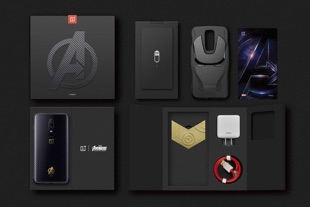 Get the OnePlus 6!
Yes, its the hottest and the best smartphone to buy this summer, what you get is a phone with immense consistency, power, performance, penance of OnePlus 6 design and Novelties, but above all great value for every single precious dollar you would invest! For those who already are using the Oneplus 5T is it a worthy upgrade, Yes! It is! A refined and new design, Much Improved Camera, Powerhouse of a Processor and Stellar Performance it's everything you want and asked for!! Get now at Hitec Mobile