A Quick Look at the Samsung Galaxy Note 10 and Note 10 Plus: Review, Price and Availability
1. design and display
One of the best parts that will catch your attention almost instantly is the fact that this is a very large phone, probably the largest that you might have ever used.
Equipped with an AMOLED Infinity-O display of 6.8 inches with a QHD (3040 x 1440) resolution, you get an extremely high-quality display that translates to 498 pixels per inch. What's more, the phone also supports HDR10+ content. Thus, stay assured, you will have a flawless experience while viewing your favourite Netflix shows and playing games.
With dimensions of 77 x 162 x 7.9mm, Note 10 is not the smallest handset in the market, however it is very light when compared to its size and weighs just 196g. The phone is ergonomically designed and fits your hand just perfectly, all thanks to its curved edges on its corner
In addition to the highly eye-pleasing design, the phone has a premium build too. Its back is made of high-quality glass, while the frame has a build of metal, which makes it pop-up. It goes without saying that the phone is quite delicate. Thus, if you are one of those who drops their phone frequently, you might need to get a case.
A USB-C connector along with a slot for the S Pen is provided at the bottom edge on the phone. The right-hand edge of the phone is conventionally designed and contains the power button and volume rocker.
What caught our attention is the fact that the phone doesn't contain any Bixby button which is available on almost all modern Samsung phones. Note 10 has combined this feature into the power button such that you only need to hold the button for a few seconds, and this will trigger the voice assistant. This is quite similar to how Google Assistant or Siri work on high-end smartphones.
Thankfully, Note 10 is IP68 dust and water-resistant. Thus, you don't need to worry that water will get splashed or that the dust will block its ports.
Although the phone is great and all, the only problem area is that it could be difficult to handle with one hand. If you are the one who uses both the hands in using the phone, the phone is a perfect pick for you. However, if you intend to use it with just one hand, you might not be able to hold the phone and use the S pen easily and comfortably.
We will like to use the phone for prolonged durations to understand how ergonomically it is designed, but an initial look reveals that you will be only able to use the S-pen stylus when you are standing still to ensure that you have got an effortless grip.
Note 10 comes in three colors – Aura Glow. Aura Black and Aura White. We're not sure if all these colors are available in the market currently.
Talking about the display of Note 10 Plus, it will not disappoint you either. Flaunting the QHD resolution and higher-spec display, the display of Note 10 Plus is even better than Note 10.
Similar to Galaxy S10 and S10 Plus, the phone has an Infinity-Of display. This means that the front of the phone doesn't contain notch and is full-screen. On the screen is a punch-hole cutout for placing 10MP front-facing camera which is located at the top in the canter.
2. Camera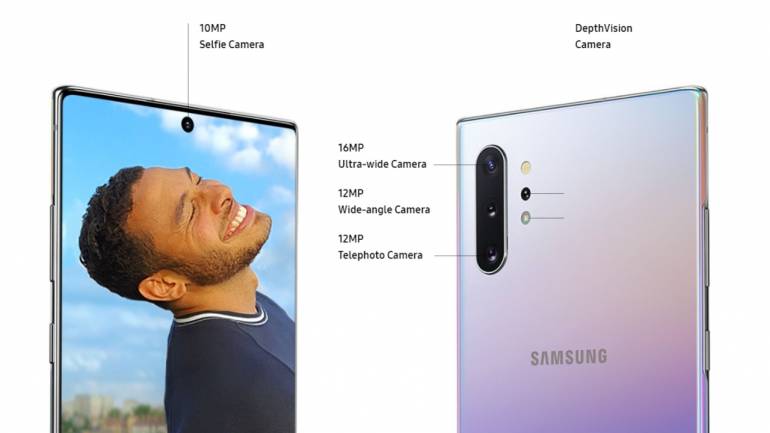 The camera of Galaxy Note 10 Plus is nothing extraordinary. Its setup is very similar to the other phones launched by Samsung recently. The phone has a 12MP regular lens, 16MP f/2.2 ultra-wide lens and 12MP f/2.1 telephoto lens. Add to that, the phone is also equipped with a DepthVision camera. This is something we don't see in Galaxy Note 10.This camera helps in sensing depth and provides a more distinguished and natural effect to the photos.
You also get to apply bokeh effects to your video clips and photos with Live Focus Video which turns the background in your photo mono while the subject remains colored.
Although this feature is available on the standard Note too, we found that this feature worked way better on Note 10 Plus, all thanks to its DepthVision camera.
Another feature that we liked is the augmented reality mode which allows you to draw on the top of your video clips. Zoom-in mic is another feature that allows you to attain clear audio during certain sections of the video while you are busy recording it.
3. Note 10+ specifications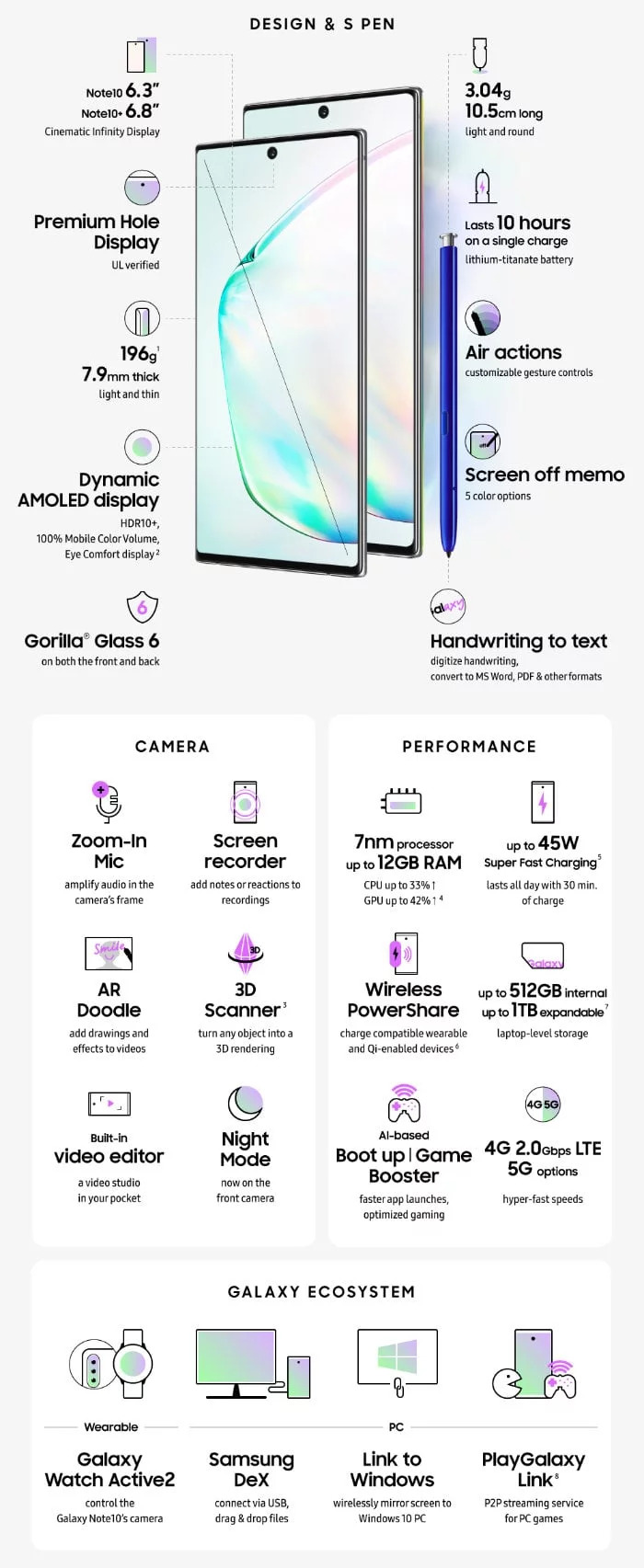 Note 10 Plus flaunts an upgraded S Pen which also supports gesture controls now. What makes Note worth having is its S Pen which has undergone a huge transformation in this phone. It provides impeccable responsiveness and is extremely compatible with Bluetooth.
This, in turn, allows you to control Samsung apps easily without touching the phone, including the camera and the likes.
Note 10 Plus is geared up by 12GB of RAM and you can choose between 256GB and 512GB of built-in storage. Add to that, the 512GB variant also provides you with a microSD support which allows you to extend your storage to 1TB.
The phone is powered up by a battery of 4,300mAh cell which is enough to last the whole day on a single charge.
Additionally, the phone supports wireless charging and PowerShare feature. This feature converts your Note 10 Plus to a wireless charger. Thus, you can use this phone as a wireless charger for charging other gadgets.
Similar to Samsung phones, Galaxy Note 10 Plus is powered by Samsung's newly announced Exynos 9825 chip.
4. Note 10 and Note 10 Plus Price and Verdict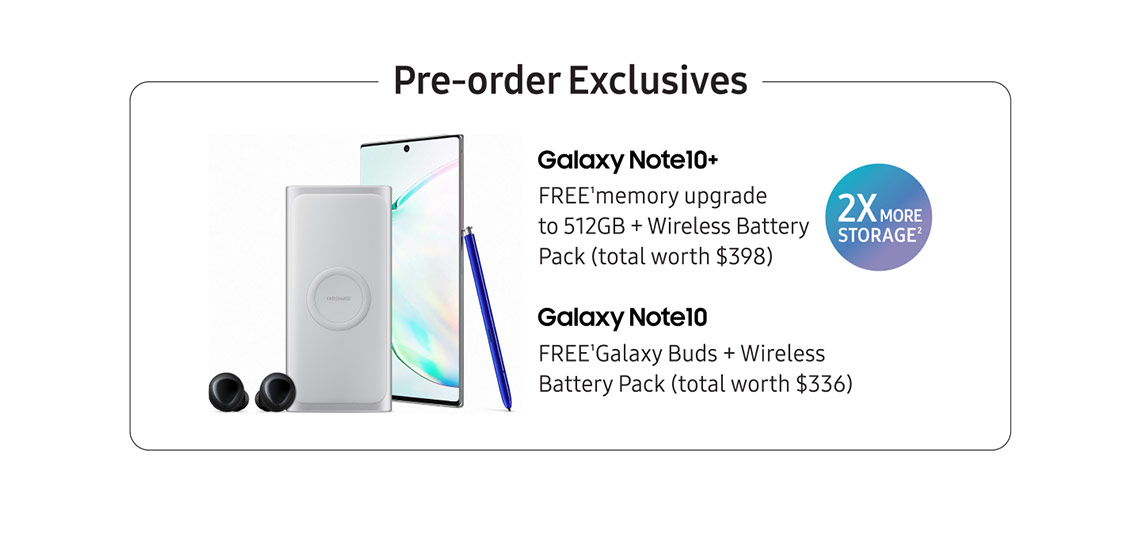 Both Galaxy Note 10 and Note 10 Plus were recently launched at Samsung's Unpacked 2019 event. You will have to wait until August 23 to try your hands on the phone, but you can preorder your phone now.
Note 10 is priced at $1250 while the Note 10 Plus in Singapore with the bigger storage will cost you $200 more and will cost you $1,440. Although the entry price of the Note 10 might vary a bit, we are sure, you can gain some sweet deals during pre-orders.
Hitec Mobile already has its trade-in page up, and carriers are working on contract deals for the handset.