Here`s 5 Reasons Why iPhone 11 Is Worth Getting Over iPhone 11 Pro
iPhone 11 Price Singapore
With Apple announcing three new models, which iPhone 11 is the best one for you? Apple has recently announced a set of three new iPhones: iPhone 11, 11 Pro, and 11 Pro Max. While all of these are premium models, the three differ in terms of price, screen size, battery life, features, and, of course, the price.
At first glance, the designs seem to be similar. However, there's still a lot to choose between the three. To help you out, we've compared the three models in detail so you can know all the similarities and differences.
We've covered different factors such as the battery, display, screen size, and specs. Check out our price and feature comparison of the three iPhone 11 models to make your pick.
1.iPhone 11's Design Appeals To More Mass Audience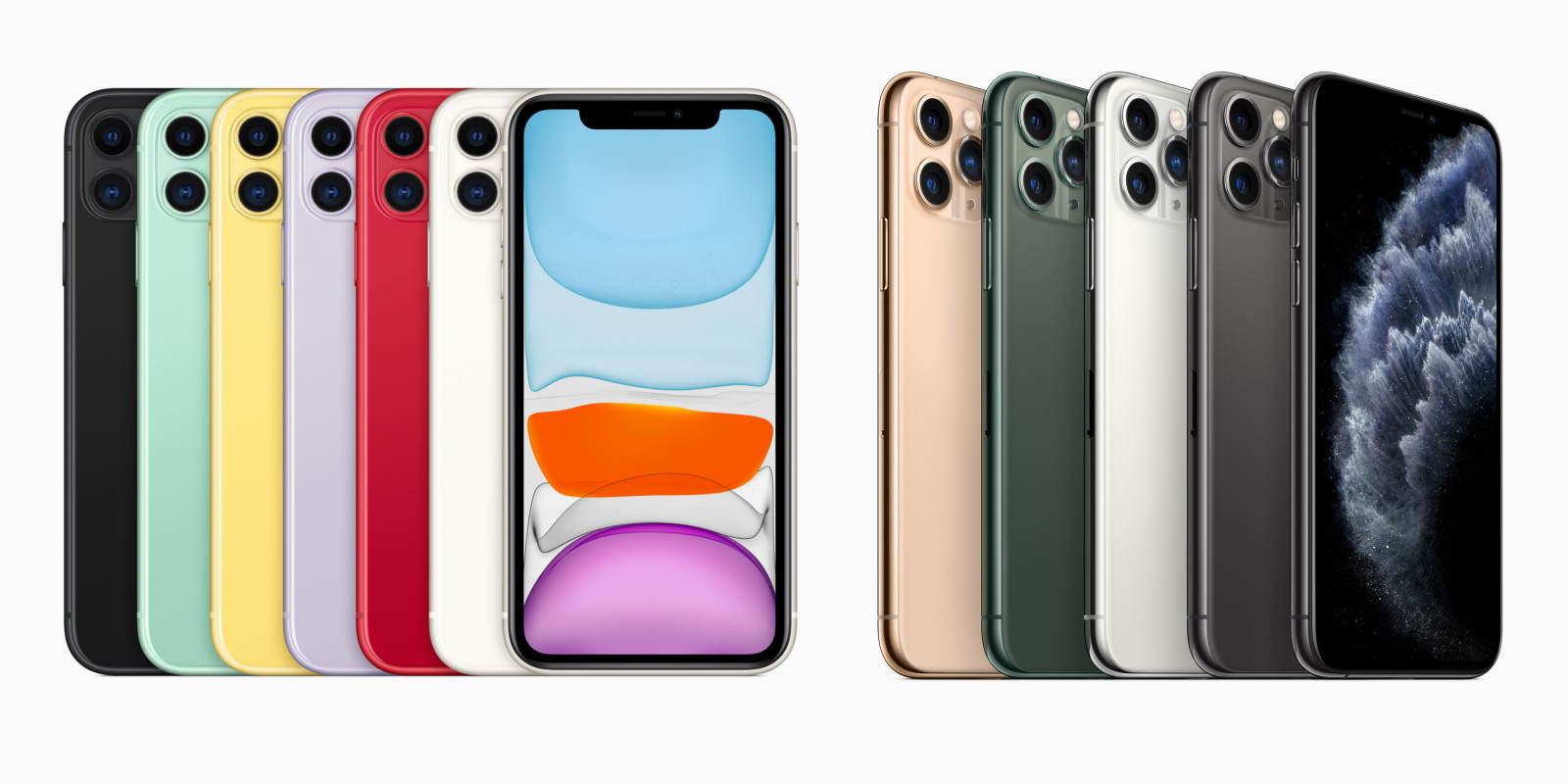 The three new models have almost the same design that is much similar to the design of the XS range, especially from the front. In the front, there is the same notch on the top along with an all-screen design. Other similarities include a metal frame and a glass back; however, there are differences in this case too. For instance, the case for iPhone 11 is made of aluminium while for the other two it is stainless steel.
However, the back is where the real differences are. While the cameras for all three are arranged in a square block on the top left corner, the iPhone 11 Pro and Pro Max have somewhat of an awkward placement of the three cameras in a square hump. Meanwhile, the iPhone 11 has two cameras that are placed vertically and do not seem to be too awkward.
The iPhone 11 is available in a range of more colors, six to be exact. These include bright and exciting tones like red, black, green, white, purple, and yellow. Meanwhile, both the Pro models are only available in four colors, and most of these are the same shade as that of last year. These include Gold, Midnight Green, Silver, and Space Grey.
Lastly, the dimensions and weight of the three also differ. Compared to its 2018 counterparts, at 194g, the iPhone is 11 is much lighter than the 11 Pro and Pro Max that weigh 188g and 226g respectively. Size-wise, iPhone 11's dimensions are 150.9 x 75.7 x 8.3mm. For Pro and Pro Max, the dimensions are 144 x 71.4 x 8.1mm and 158 x 77.8 x 8.1mm respectively.
2. iPhone 11 Has Better Screen Size; Albeit Lower Resolution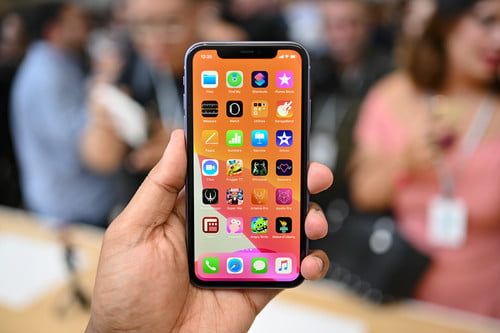 The iPhone 11 seems to have the ideal screen size which is neither not too big nor too small. It has a 6.1-inch LCD screen with a resolution of 828 x 1792. Meanwhile, the iPhone 11 Pro comes with an 1125 x 2436 OLED display measuring 5.8 inches. The Pro Max, on the other hand, comes with a 1242 x 2688 OLED display measuring 6.5 inches.
Considering the dimensions and screen size of the iPhone 11, it seems to be the standard for today. Meanwhile, the Pro Max has a massive display. And while the screen size of the 11 Pro is great, it can be slightly small for some.
Unlike the two pro models, the iPhone 11 doesn't have an OLED screen. Despite that, it has a liquid retina display which still promises fantastic results.
To put it in perspective, an OLED screen produces deeper contrasts and richer colors, so dark colors, and blacks, seem inky instead of gray. Of course, the iPhone 11's screen can't have such an OLED effect, but its liquid retina display provides accurate colours and high-quality picture. In fact, it's one of the best LCDs fitted a smartphone.

Apple has dubbed the OLED screens as Super Retina XDR and is basically the same setup as the previous models. However, there are some improvements in terms of screen quality. For instance, the two Pro models have a maximum brightness of 1200 nits and a contrast ratio of two million to one. Meanwhile, iPhone 11 only has 625 nits and a contrast ratio of 1400:1.
Despite all these specifications, you'll notice that the resolution of the iPhone 11 doesn't match with that of the iPhone 11 Pro only if you look closely at the LCD display. If you look at it from the normal angle, you'll hardly notice any differences. Another thing to note is that OLED tends to drain the battery much faster than LCD screen.
3. iPhone 11 Has Improved Picture Quality And Face ID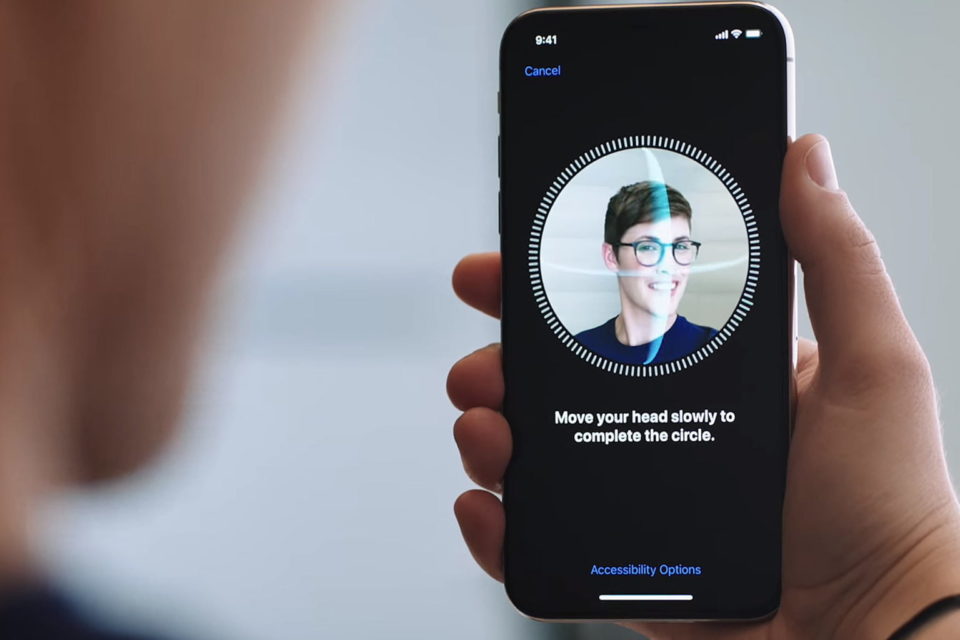 All the three models come with an identical rear camera system with only one difference. However, this one different is hardly a deal-breaker.
Compare to last year iPhone XR`s single lens camera, the iPhone 11 has two lenses for its rear camera, while its other two siblings have three lenses each. All the lenses are 12MP and all three models have the standard f/1.8 as well as the ultra-wide f/2.4 lenses. The only difference is that both the Pro models have in common is that telephoto f/2.0 lens with 2x optical zoom which allows the both to take brighter picture using 2X telephoto zoom, which brings to my next question.
A telephoto night zoom lens is not really useful for daily photography. Even if it does prove to be any use, you still need to depends on the photographer`s stability in handling the camera and the ISO setting, which might cause too much noises when set too high, thus the third camera isn't a must-have.
Coming back to the similarities, all three models come with 4K video recording up to 60fps, night mode, and several other modes that are almost present in all three new iPhones.
When it comes to the front camera, it is also identical in all three models. It has a 12-megapixel selfie camera that comes with support for 4K video to 60fps. All three have the same TrueDepth camera that allows for Face ID to unlock the phone and help make purchases. In fact, the Face ID has been improved on all the three models so it is now faster and is able to work from more angles as well.
4. iPhone 11`s Battery Life Greatly Improved and Supports 18W Fast Charge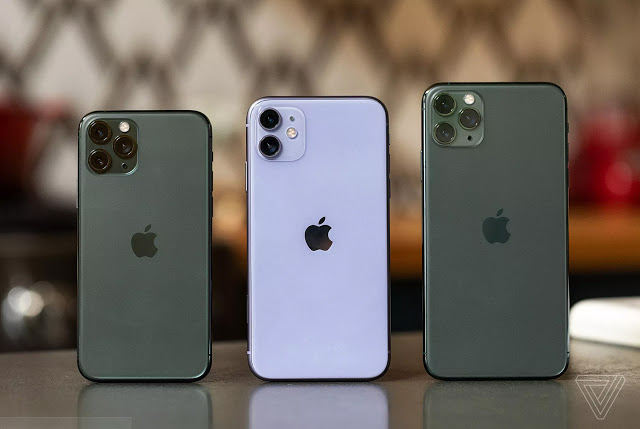 Apple hasn't exactly unveiled how big the batteries are in the new range. However, it was announced that the iPhone 11 works for one hour more than the XR, iPhone 11 Pro works for 4 more hours than the XS, and the iPhone 11 Pro Max lasts 5 hours more than the XS Max.
Compared to last year's model, the iPhone 11 has a 3110 mAh battery. To put into perspective, the XR was launched with a 2942 mAh battery, the XS Max with 3164 mAh, and the XS with 2,658 mAh.
The iPhone XR in the last year has the best battery life in any smartphone by Apple ever with a single charge providing up to 15.5 to 16.5 hours. So, since iPhone 11 can reportedly last an hour longer than its predecessor thus providing 16.5 to 17.5 hours in a single charge.
The 11 Pro also provides the same battery life. However, according to Apple, with its big battery, the Pro Max provides 18.5 to 19.5 hours. Of course, we can only know how the battery life fares after we've done a thorough review.
As for the charging, both wireless charging and fast charging are supported with all three models with fast charging being able to increase the juice by 50% in just thirty minutes. However, it needs an 18W charger which comes with the box with iPhone 11 Pro but not with iPhone 11.
5. Similar Specifications, Better Price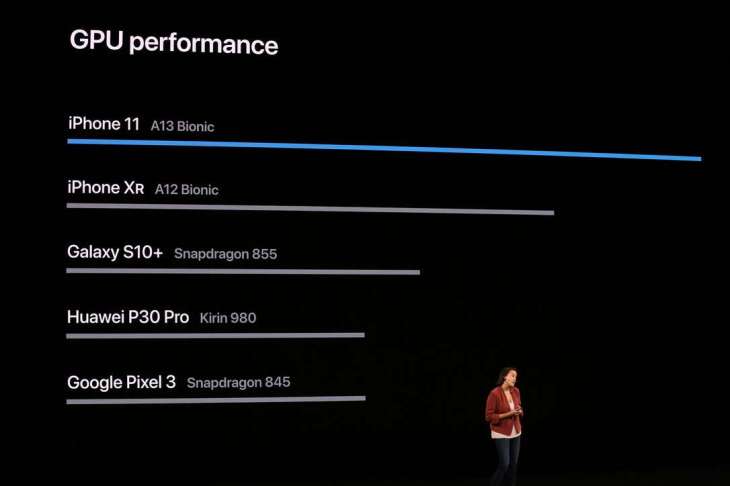 After learning his lesson from last year, Tim Cook finally realise that to be able to beat other Android`s competitor, the pricing for iPhone 11 and specification must be good. Hence, the latter does not compromise in performance as it is fitted with A13 Bionic chip – the fastest chip in all smartphone today, in layman`s term, it has much faster CPU as well as GPU than last year iPhone XS range. The chipset also has a neural engine which makes the smartphone power-efficient and nimble. So, even if you choose the cheaper iPhone 11, you won't notice a dip in the performance.
To put into perspective, the A13 can perform 8.5 trillion operations per second. In comparison, the A11 chip that powers the iPhone X was capable of 600 billion operations per second and the A12 that was fitted in the XS and XR can handle 5 trillion operations in a second; that`s a whopping 14 times jump in processing speed!
Talking about software, the iPhone 11 will be powered by the latest iOS 13 out of the box. Storage-wise, both the Pro models come with 64GB, 256GB, and 512GB models. Meanwhile, the iPhone 11 comes with 64GB, 128GB, and 256GB models. While many might point out the lack of a 512GB model for iPhone 11, if you really think about it, an average user doesn't need that much space. While some may argure the lack of 512GB in iPhone 11, but the fact is 256GB is just enough for a Macbook that stores much more data, let alone a smartphone. Really, 512GB is really an overkill.
iPhone 11 Price and Availability
iPhone 11 price in Singapore starts at $1149 for the 64GB while the 128GB variant costs $1219. The 256GB variant, however, costs $1389. For the 64GB model, the iPhone 11 Pro costs $1649. Meanwhile, the 256GB and 512GB cost $1849 and $2199 respectively. The Pro Max is available at $1799 for the 64GB model, $2039 for the 256GB variant, and the 512GB model costs $2349.
The Verdict
As one can expect, the iPhone 11 Pro Max seems to be the most impressive of the three. For one, it has the biggest screen. The iPhone 11 Pro Singapore, however, stands out for its significantly smaller display. Then comes the iPhone 11 which has notable fewer lenses for the back camera and an LCD instead of an OLED. However, on comparing all three, it's clear that it has the same flagship-level performance and camera. In fact, it's the only iPhone model capable of competing with Android devices in terms of the value for money.
While both the Pro models have some advantages over the iPhone 11, such as slightly faster connectivity, telephoto lens, and superior display, for many, these differences don't justify a price difference of over $500 Singapore dollar.
For some users who don't really care about premium looks you should go for the iPhone 11, which is much more value-for-money.
Trade-in Deals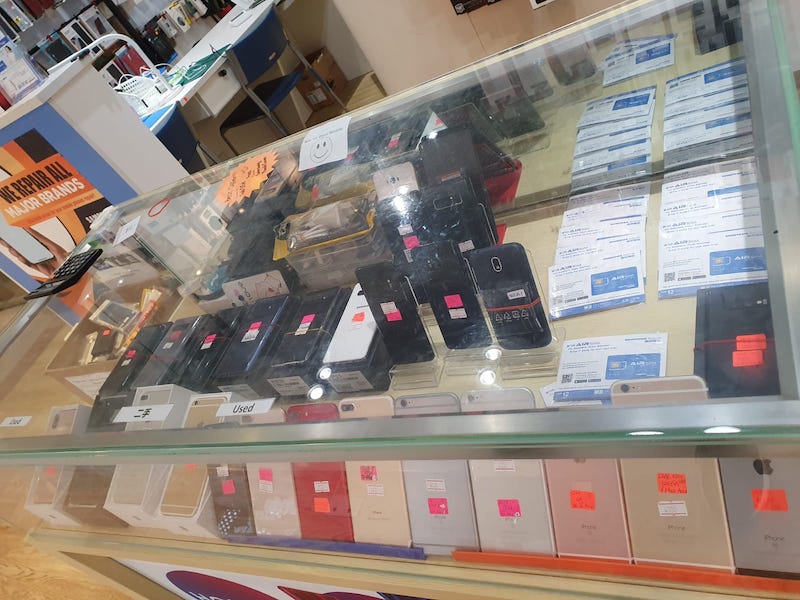 As you might had already know, you can Trade-in your older device to make it more affordable by just paying for the price difference, say for example; an iPhone 11 256GB cost $1200 minus your iPhone 8 Plus which can fetch $650 means balance you only need to top-up $550 for a spanking new iPhone 11 with warranty. So why wait until your idevice`s warranty is over and start giving technical issue like battery goes flat very fast, Screen crack and not showing display properly. All these issues can be avoided if you give up your old smartphone before problem start to arise.